Marine Surveyor Group's founding partners each took a different path to marine survey expertise. both grew up "loving life on the water" from Southeastern Massachusetts and New York's Long Island. Both are currently US Coast Guard licensed and experienced Captains, so they know first hand the "pleasure" of well appointed and maintained yachts and the "pain" of a mechanical breakdown. They both further honed their skills working as marine surveyors, consultants, refit managers and new build consultants.
Working together, each partner has earned the respect of the other surveyors and they continually share the knowledge they have acquired during their combined decades of professional experience on a variety of vessels from 25 to 250+ feet. The Marine Surveyor Group, not only shares their knowledge with each other, but they each thoroughly explain in detail every aspect of their work to clients before, during and after a survey.
Now ready and looking forward to serving all your yachting needs, Baron Rohl,Rollie Gordon and multi-disciplined associates.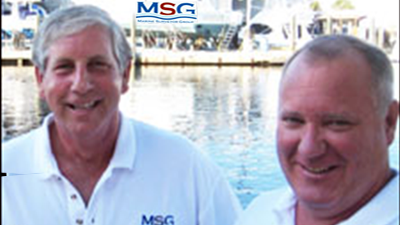 Baron Rohl and Rollie Gordon are ready and looking forward to serving all your yachting needs.
Complete Resumes
Baron Rohl – PDF
Rollie Gordon – PDF
Both Group members have vast experience surveying hull conditions, marine risk, newly built yachts, trade ins for purchasers, dealers and brokers plus evaluation and damage reports for major underwriters and worldwide new vessel construction. Clients are urged to involve the Group early in the new build process for, design and specifications, contract review, construction and testing/periodic inspection. After all, who knows better what to look for in structural and mechanical details during the planning and construction stages than someone who has operated and repaired yachts? Additionally, all Marine Surveyor Group services can be tailored to clients' individual needs.
The majority of the new business that Marine Survey Group partners have had over the years has come from current client referrals. This is evidence that "going the extra mile" to deliver the most thorough and professional results has been noticed and appreciated.
Here are the different paths that led the partners to marine expertise:
At an age when most young men were counting the days until they were old enough to drive a car, Rollie Gordon, a boater since age 12, was obsessed with getting his US Coast Guard Captain's License as soon as he turned eighteen. Rollie moved to Florida where he began a twenty year career as a yacht captain. His passion for boats helped him excel at his chosen career where high standards and a strong work ethic are the norm. Gerry Slakoff, founder of Slakoff & Associates Marine Surveyors, recognized Rollie's reputation and dedication in 1995 and invited Rollie to study as an apprentice Marine Surveyor. That led to a full time marine surveying career where he eventually became a partner with Slakoff in the marine surveying company. Rollie takes great pride in providing his clients with comprehensive inspections and producing detailed marine survey reports.
As part of the third generation in the maritime industry, Baron Rohl grew up on Long Island, NY, and received his US Coast Guard captain's license in 1976. Upon graduation from college in 1979, Baron turned his career toward the yachting industry. As Master and Build Captain in 1988 he was an integral part of the success of the 131-foot Heesen built OCTOPUSSY. During the 1990's his talents were engaged as a consultant for the U. S. Navy and, new build project manager on several yachts in Northern Europe. Baron's versatility in the maritime industry as a commercial ferry Port Captain, and Harbor Captain round out his background. As an experienced marine surveyor familiar with wood, steel, aluminum, and GRP vessels, Baron offers his multi-discipline experience on every survey.